Dear Friends,
§§§§§§§§§§§§§§§§§§§§
Our live video from Wednesday was very well-received and got rave reviews! Thank you for showing up and giving us a global peace meditation with sixteen thousand live participants! This technology really works, and makes all the trouble of livestreaming worth the effort, in my opinion.
In case you didn't notice, somehow the exact time we spent doing this video was 3:33:33! This was absolutely astonishing. And this was after an extensive discussion in the video on numerical synchronicities just like this.
I can assure you this was not in any way pre-planned. It involved some type of intuitive coordination between Elizabeth and me alike, far beyond anything we could have consciously planned or imagined, particularly after starting late. Elizabeth was the one who hit the STOP button at exactly one second before 3:33:33!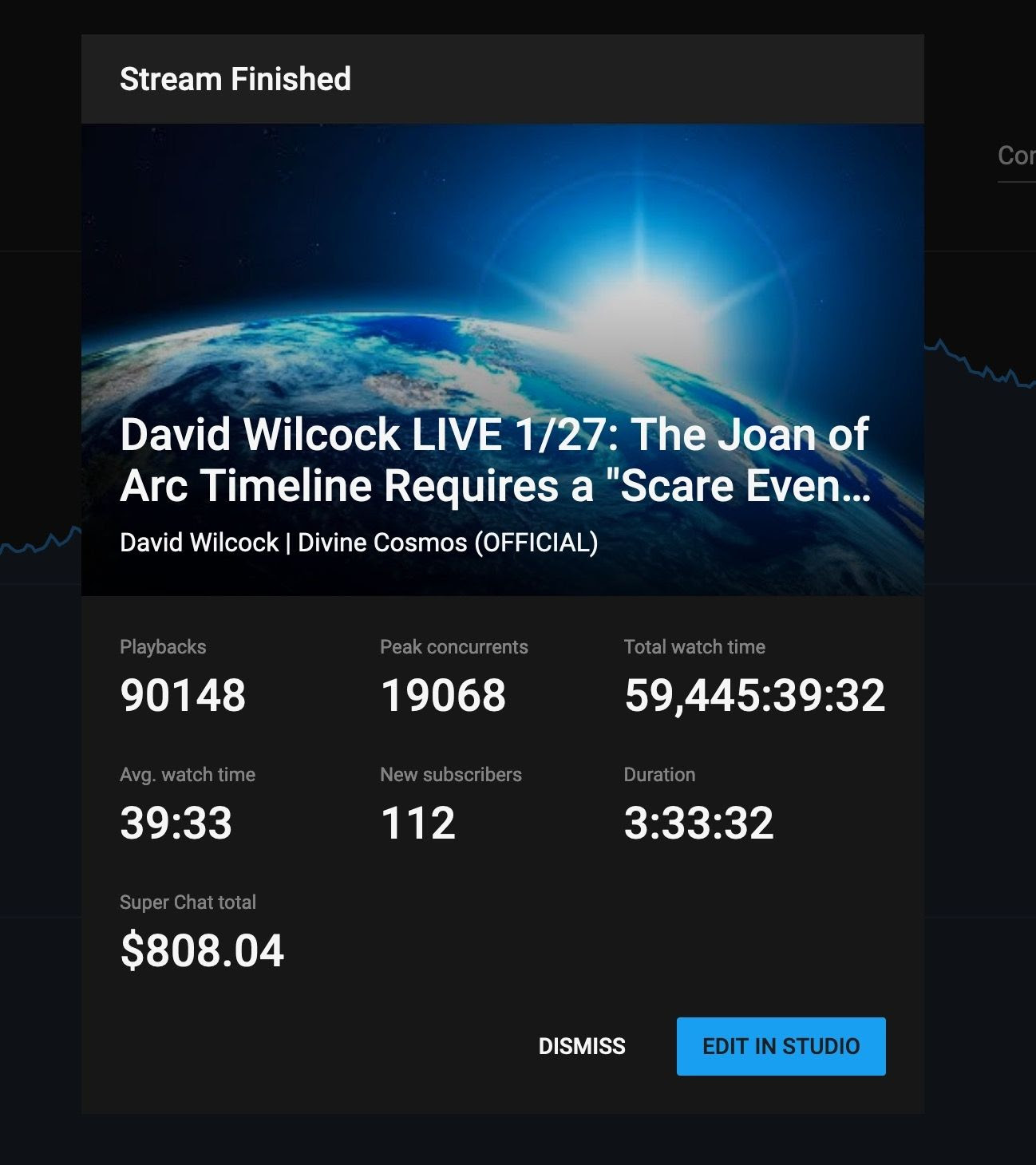 This is part of why I left in the part where I get upset about the dog barking at the beginning. If I cut that out, it would ruin the synchronicity! So enjoy the guilty pleasure of seeing me lose my stuff right at the beginning.
I also discussed animal totem synchronicities in the video, and shortly thereafter, you will hear a huge pack of coyotes outside the window. And this was right while we were discussing how the DeeEss is equally surrounded by the US military.
Also, in another section I reveal an audience member's synchronicity post, where the timing of his synchronicity was stated to be at 40:50 in the video he was watching.
Again, unbeknownst to me until now, I show you his text only 20 seconds before 40:50 in the livestream. This was another impressive and consciously unintended synchronicity!
Why are all of these strange things happening? Why did my mother break her hip to further underline the significance of the readings I shared with you on January 17th, which started with me having exactly the same type of fall on ice?
Isn't it interesting that the ultimate theme of my mother's fall, as well as my own original fall in Canada, was that both of us were miraculously unharmed compared to what "should have" happened with such an accident?
I believe this is a direct statement of synchronicity that reinforces the idea that we will have a safe, soft landing through all of the terrifying events we are now seeing.
This also fits in perfectly with my dream of the former president, in which he took me over a cliff in a car, but we had a "perfect" landing… you know, like a perfect call.
[I also realized that the scorpion who jumped with me off of the bed and tried to sting me in that dream is an obvious metaphor of getting some sort of an injection. That makes FAR more sense and I wish I had seen it at the time. Thank you to the several people who pointed that out to us in the comments!]
§§§§§§§§§§§§§§§§§§§§
There can be no doubt that we are going through a massive, global initiation in which upsetting events are taking place — and triggering profound changes within ourselves.
There are many mysteries and anomalies surrounding recent events that we discuss thoroughly in the latest video, particularly beginning shortly after the first hour. Once you truly get the encoded meaning of "11.3" and where it shows up, I expect you will be impressed. I know I was!
For whatever reason, every time we try to livestream, we have had incredible problems. As you know, in several cases the videos themselves keep pausing constantly, and when the finished version appears, as much as 45 minutes of the entire runtime has conveniently been deleted.
Instead, you get constant gaps where as many as 20-30 seconds of content at a time simply disappears, and it is stitched together at the before and after points in between. This did NOT happen in the acutal livestream, by the way.
I think there is another previous video that has no good version of it that has been re-uploaded, and I will do my part to get that one fixed as well, soon enough.
This strange problem looks an awful lot like "someone doesn't want you to hear this stuff." We keep persisting and moving forward nonetheless.
Also, bear in mind that we had tested the entire system beforehand and these problems were not happening. Only once we actually went live did it become an issue.
We had to drop our bandwidth to try to remedy this very suspicious problem and it predominantly worked, although our second-to-last show from January 17th still had horrible pauses throughout the entire thing, as you may have noticed.
In case you haven't already seen this, I thoroughly repaired that video and turned it into a seamless, perfect result. I had to fix the synchronization between the video and the audio, so that my mouth movements are aligned with the voice and everything looks okay.
This has proven to take about four hours of intense labor each time, as I have to manually identify each place where the 'drift' has occurred… and there are typically at least five to seven of them in each show we do.
In case you haven't already done so, you can now watch the CORRECTED, super-hi-res version of our January 17th show by clicking here:
CORRECTED VERSION OF JANUARY 17TH LIVESTREAM
In our most recent show, we thankfully didn't have the problem of everything gapping out on us, but we did have a frustrating break in the audio synchronization once again.
Now you can watch the definitive, corrected version of our January 27th show, which I fixed and uploaded late last night, by clicking on the following link:
CORRECTED VERSION OF JANUARY 27TH LIVESTREAM
Although many of the imminent probable futures we described on January 17th did not actually happen, there are still many data points in that video that are highly relevant to everything happening now, and the discussion that we continued with on the 27th.
Therefore, it might be worth your time to re-watch both of them… in case you were not able to properly enjoy them in either case!
I am avoiding a bunch of words here, but please watch both of these, and you will see why this is so timely and relevant to EVERYTHING that is going on now. Don't miss 'em!
We will have more coming soon enough, and that may include a video that is not live but pre-processed, just to limit all these types of problems.
We are also going to upgrade our internet here to try to alleviate the problems that are associated with insufficient bandwidth, which appears to be much of the issue — barring any outside interference, which seems likely as well.
This is part of why we have to drop these videos fast, with little forewarning! Some of you have asked for that, but the situation itself imposes its own unique constraints.
If we come out of nowhere, the paid attacks are greatly reduced, although now they are back in the usual fashion.
The difference between the "real" audience and the "paid" audience is incredibly noticeable if you bother to follow the Live Chat.
We identified dozens of individuals who were literally doing nothing but writing incredibly toxic attacks, non-stop, throughout the entire three and a half hours of content. Most had to be blocked. This is not something most people would be motivated to do on their own, with no outside support or logistics.
Anyway, this is a very exciting time in American and world history, and I will continue to do my best to research all the available data, summarize it and present it to you!
Thank you for your ongoing support. And for those who are asking, we are definitely doing another online conference in the Spring — not too long from now. This will again be a deep-dive into the Law of One and other topics that I would not feel comfortable sharing publicly.
I am still dreaming into what that content will actually be, so that even if you have seen all of the previous online events, this will be fresh and new and build off of everything you have already learned.
For now, sit back, relax, enjoy the videos and we will see you soon!
TAKE ME TO THE CORRECTED JANUARY 17TH VIDEO HERE
CLICK HERE TO SEE THE CORRECTED JANUARY 27TH VIDEO
— David and Elizabeth
§§§§§§§§§§§§§§§§§§§§

Divine Cosmos, Po Box 249, 4872 Topanga Canyon Blvd, Woodland Hills 91364, US
January 27, 2021 email:
Dear Friends,
Join us tonight for more on the Joan of Arc Hero's Journey and the state of affairs!
→ Click here to join at 5pm PST / 8pm EST tonight!
Events obviously did not proceed as we had anticipated. Uh-oh. Does this mean All is Lost? Are we in a global Dark Night of the Soul?
What lessons can we learn from the Joan of Arc Timeline?
David argues that the Hero's Journey of archetypes is a galactic template of consciousness evolution. This blueprint extends throughout history.
The ponderous and seemingly impossible situation we now find ourselves in is actually quite familiar. And… the apparent "end of the world" is only on page 85 of a 120-page screenplay!
Join David in this data-rich investigation of current events… and all the things you are no longer "allowed" to be interested in.
We will conclude with another Global Peace Meditation to help ensure that this global awakening proceeds as peacefully and effectively as possible.
Don't miss it!
Click here to joinat 5pm Pacific / 8 Eastern
We look forward to seeing you soon!
— David and Elizabeth

Divine Cosmos, Po Box 249, 4872 Topanga Canyon Blvd, Woodland Hills 91364, US