NorthPoint Astrology Journal Your weekly guide to planetary influences November 9 to 15, 2020 by Pam Younghans


Aspects of Note This Week  
All times listed are Pacific Daylight Time. For Greenwich Mean Time, add 7 hours.   
MON: Venus opposite Mars, Sun trine Neptune
TUE: Mercury enters Scorpio, Mercury trine Ceres
WED: Mars semisquare Ceres, Venus quincunx Neptune 4:30 p.m.
THU: Sun sesquiquadrate Chiron, Jupiter conjunct Pallas Athene, Pluto conjunct Pallas Athene, Jupiter conjunct Pluto
FRI: Mercury sesquiquadrate Neptune, Mars stations direct
SAT: Sun sextile Pluto, Sun sextile Jupiter, New Moon 9:07 p.m. PDT
SUN: Mercury quincunx Chiron, Sun sextile Pallas Athene  

OUR JOURNEY through 2020 has been rocky, to say the least. Physically, emotionally, and spiritually, we have been challenged at every turn.  

Many of this year's most life-altering twists and turns can be linked to alignments involving Pluto. We began 2020 with the Saturn-Pluto conjunction on January 12, which was when the world initially became aware of the novel coronavirus and great divisiveness was playing out on the political stage. This was the opening act in the drama that has been unfolding ever since, with its ensuing scenes powerfully defined by alignments between Jupiter and Pluto.  

THE FIRST Jupiter-Pluto conjunction occurred on April 4, as fears about the virus peaked and we went into global lock-down. The next Jupiter-Pluto event was on June 29, as the second wave of COVID-19 was building worldwide, and rage against injustice also reached a peak.  

This coming week, we have the third and final conjunction between these two planets. Once again, the trend on the COVID-19 charts is sharply upward. This resurgence of the virus, along with social and political tensions, are leading humanity to another crisis point.  

THIS FINAL conjunction between Jupiter and Pluto is made all the more powerful in that it exactly aligns with the asteroid Pallas Athene, named for the goddess of Wisdom and War. This strong feminine influence could indicate a woman coming into power on the physical plane, as well as the Divine Feminine working with us on the metaphysical planes.  

Also of note is that this conjunction perfects at the same degree – and almost the same arc minute – as January's Saturn-Pluto event. (The Saturn-Pluto conjunction was at 22°46′ Capricorn; this Jupiter-Pluto conjunction occurs at 22°51′ Capricorn.) This is just another sign that events this week are powerfully related to the larger evolutionary shift underway, which is requiring the deconstruction of old social and political forms.  

BUT THIS is about much more than only managing and surviving the external events. Pluto's job, as the Psychotherapist Planet, is to reveal and transmute negative energy. One of Jupiter's tasks, as the largest planet in our known solar system, is to exaggerate and magnify. The three alignments between these two planets are corresponding with great waves of negative emotion in mass consciousness, which must be transmuted if humanity is to evolve into its higher expression.   

The first alignment in March/April brought forth a Wave of Fear. The second, in June/July, provoked a Wave of Anger and Rage. The third, peaking this week, might be described as eliciting a Wave of Distrust and Blame, or even Hatred.  

THIS WEEK, as at each of these critical junctures, it is up to each of us individually to be aware of how we hold those misqualified emotions in our own energy field, and to do the work to transmute those emotions. We must first acknowledge the feelings rather than pretending they do not exist, and accept our own humanness. Then, we must likewise realize our Divinity, which enables us to be more than simply human.  

This work of transmutation can be done on many levels and in many ways. We can use techniques that allow us to express any repressed emotions in a safe way, and then call in light or the violet flame to move through and help clear the debris from our individual field, and the quantum field as well. We also can use the vibration of sound or color to assist us in releasing lower-frequency emotions. One of the keys to doing this successfully is not to attach to or label the emotions, but simply to allow them to process and release.  

Whatever methods work best for you, now is the time to use them. We are not yet past the time of challenges. Jupiter and Pluto are doing the work of revealing humanity's shadow. As workers for the Light, we are called to do the work of transmuting the negative emotions that arise, for ourselves and for the collective.  

ADDING to the complex energies, we have a long list of other aspects that will also perfect this week – too many to fully describe here, given all that is going on! I'll do my best to post on Facebook during the week about the ones that seem most important.  

But, I do want to talk about two other significant events that are also on this week's agenda: Mars going direct and the Scorpio New Moon.  

MARS has been retrograde in Aries since September 9. Over these past two months, while outer progress may have seemed slow and tedious, we have been called to do much work on inner levels. Mars retrograde is a time for us to realign our energies, and obstacles have shown where our desires were not fully in sync with higher purposes.  

If we have done this work of realignment, we will start to see more progress once Mars goes direct on Friday. But for most of the coming week, even though Mercury is now direct, we should expect a few more delays in the realization of our desires.  

THE NEW MOON occurs on Saturday, November 14, at 9:07 p.m. PST. The Sun and Moon will conjoin at 23°17′ Scorpio, and will be in strong aspect to many of the other planets. These include close sextiles to Jupiter, Saturn, Pluto, and Pallas Athene; a tight quincunx to dwarf planet Eris; and a loose trine to Neptune.  

Many of these aspects are very positive and supportive, indicating a true "new beginning" is possible, especially with Mars having gone direct the day before. I especially like the trine to Neptune, which will help us be in compassion and also trust in the Divine Plan.  

BUT we can't ignore the hard aspect to Eris, which indicates a potential disruption in the proceedings. Remember that the primary myth of Eris tells of her tossing a golden apple into a wedding party, an act that
precipitated responses that eventually led to the Trojan War.   With Eris involved in the New Moon chart, we can expect that this new lunar cycle will be quite eventful – especially since it marks the beginning of eclipse season, with our Full Moon on November 30 also being a Solar Eclipse.  

Eris continues to be a strong influence throughout the rest of the month, due to being exactly square Jupiter and Pluto next week. More on that influence in the next Journal.   

10 DAYS AND COUNTING:My "Paradigm Shift" webinar is on November 19! (See class description below.) A couple of notes:   

If you have any questions about registering online, please contact Elsie Kerns at elsie@wellnesswithelsie.com. She'll be able to help with any concerns about registering or payments.  

If you're not able to attend at air time, no worries! The class will be recorded. Everyone who registers receives links to the
replay and slideshow, usually within 24 hours of the event.  

Once you register, keep an eye on your inbox. You will receive a confirmation email from "orders@eventbrite.com," and then instructions from "noreply@eventbrite.com." If you don't see your confirmation email shortly after registering, please check your spam/junk folder and promotions tab.

  ("If Your Birthday Is This Week" follows the class announcement.)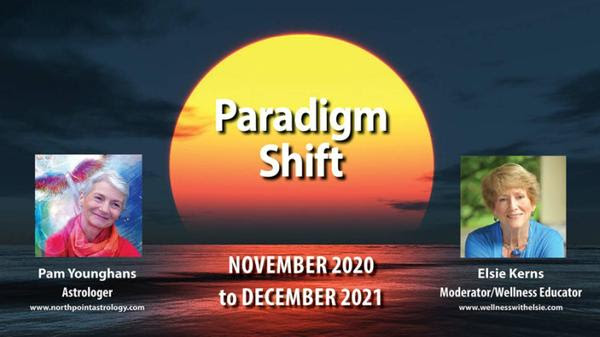 WEBINAR ANNOUNCEMENT Paradigm Shift
A new dawn on the horizon
Thursday, November 19, 2020 Broadcasting LIVE on Zoom and Recorded for Replay 4 pm PST | 5 pm MST | 6 pm CST | 7 pm EST
One-hour class, $25 by PayPal or check To Register: https://pamparadigmshift.eventbrite.com  
THE YEAR 2020 has been, by far, one of the most life-changing and disruptive years in our lifetimes, driven by the Saturn-Pluto alignment that occurred back in January. As we enter the closing weeks of this incredible year, we look to the planets to see what they can reveal about our next steps.

  On the not-so-distant horizon is a very new energy: the much-anticipated Jupiter-Saturn alignment in Aquarius, which will perfect on Solstice Day, December 21. Although Jupiter and Saturn align every 20 years, this is the first alignment in Aquarius since the year 1405. It represents a significant paradigm shift for humanity, as well as a major impulse of energy into each of our individual lives.  

In this class, we'll talk in greater detail about that Jupiter-Saturn alignment and consider its effects, both globally and personally. We'll also look beyond the immediate horizon and into 2021. We'll explore the possible manifestations and higher purposes of the Saturn-Uranus square that accompany us throughout the year, as well as the ongoing effects of the dynamic Pluto-Eris square that has already stirred much social change. Adding another layer to our understanding of what's ahead, we'll also touch on the six eclipses – half of which are powerful Total Eclipses – that will occur from now through the end of 2021.

  Please join us! Visit https://pamparadigmshift.eventbrite.com to register. If you have any questions about registering or payments, please contact Elsie Kerns at elsie@wellnesswithelsie.com.

IF YOUR BIRTHDAY IS THIS WEEK: This coming year is designed to propel you forward on your path of higher purpose in the world, while also providing opportunities for you to strengthen your spiritual practice. Along the way, you may need to adjust your expectations for immediate gratification, for this is a process rather than an event. As you work to align your will with the higher will, you are supported in creating the new forms that will best represent your higher mission. (Solar Return Sun sextile Jupiter, trine Neptune, sextile Pluto, quincunx Eris)

In Gratitude and Light,

  Pam

  NorthPoint Journal © 2020 Pam Younghans. All Rights Reserved.


 

About the NorthPoint Journal   Astrologer Pam Younghans writes this NorthPoint Journal based on planetary influences and insights received. Her hope is to offer perspectives to assist you in utilizing current energies to enhance your life experience and accelerate your spiritual and personal growth.   Feel free to share this issue of the NorthPoint Journal with others who may enjoy it! When doing so, please forward it in its entirety, including all contact and copyright information.   To learn more about private astrology sessions, please visit the "Personal Readings" page at www.northpointastrology.com. To schedule a reading, please email pam@northpointastrology.com.   NorthPoint Journal copyright 2020 Pam Younghans. All Rights Reserved.
NorthPoint Astrology, 15000 Block 75th, Kenmore, WA 98028, USA

Unsubscribe | Change Subscriber Options