Aspects of Note This Week
All times listed are Pacific Daylight Time. 
For Greenwich Mean Time, add 7 hours.   
MON: Sun sesquiquadrate Neptune
TUE: Mercury retrograde returns to Libra, Venus enters Libra
WED: Sun quincunx Chiron
SAT: Full Moon 7:49 a.m. PDT, Sun opposite Uranus
SUN: Mercury square Saturn, Venus opposite Chiron.

AFTER SO MUCH stormy weather over the past few weeks, it is perhaps no surprise that the climax of the current lunar cycle – our Full Moon on Saturday, October 31 – promises to be memorable. This is a Blue Moon, being the second Full Moon in the calendar month, and it is occurring on the ancient Celtic festival day of Samhain, known to most in present day as All Hallow's Eve/Halloween.  

These factors alone would cause us to consider this Full Moon as being special – but there's more. The most significant news about this Full Moon is that it occurs within a mere three arc minutes of being EXACTLY conjunct Uranus. In exact degrees, the Moon will be at 8°38′ Taurus and Uranus will be at 8°41′ Taurus. This proximity of Uranus to the Moon when it reaches fullness heightens its impact in many ways.  

EMOTIONS are usually heightened at the time of a Full Moon. It is why we have the term "lunacy" in our language, due to the fact that some people's mental stability seems to be affected by this phase of the lunar cycle. We also call people "moonstruck" when they are thinking or acting in ways that are out of character, or perhaps even bizarre.  

When we add strong Uranian energies to the effects of a Full Moon, we can imagine that feelings will be even more extreme than they are during a "normal" Full Moon. Uranus is highly electric, so nervous energy is likely to be very high, and we should not be expecting rational behavior. Imagine a dark night with both a Full Moon and a lightning storm, and you begin to get the picture.  

AT SAMHAIN, it is said that the veil is thinner between the worlds, making it easier to communicate with the spiritual realms. Mystical experiences are more likely at this time. A Full Moon also increases that potential, so be sure to watch your dreams and visions throughout the weekend for messages from the Other Side.  

And what happens when we consider Uranus in this context? Uranus is the planet of higher consciousness, and is called the Great Awakener. Through Uranus, our intuition is heightened and we have greater access to the Higher Mind. It is the planet of breakthroughs and breakdowns, but not without purpose. It is when we are dislodged from our usual routines and "normal reality" that we open our minds to alternative ways of thinking. We become more available to flashes of insight and inspiration when life doesn't go according to plan.  

NEEDLESS TO SAY, as we get closer to the Full Moon, it will be very important to stay centered. Just as they are during a thunderstorm, electrical energies will be quite high, which can be challenging if we're not grounded. On top of all this, Mercury is still retrograde this week, which can contribute to a sense of disassociation and lightheadedness. And, with the Full Moon and Uranus in earthy Taurus, we can feel like the ground is moving beneath our feet, either literally or figuratively.  

Make good use of your calming techniques throughout this week and next weekend, especially those that involve slow, conscious breathing. If we're able to maintain our emotional balance, we can find benefit in these energies through the expansion of consciousness that is possible.  

OTHER PLANETARY ASPECTS this week are lower impact, until we get to next weekend. Retrograde Mercury will be square Saturn on Sunday, which can manifest as less-than-optimistic thinking. This influence will actually last for several days, since Mercury goes direct next Tuesday (November 3) and exactly squares Saturn again on November 6. This aspect indicates delays and disruptions in normal communications, exaggerating the Mercury retrograde effect for several days.   

Do your best to maintain a spiritual perspective on all events throughout this week and next. Call solar light to you and bring it into your heart. From there, visualize this light from the soul planes moving throughout your physical body. Then bring it into your mental and emotional bodies, to soothe and calm, and to bring all levels of your being into a
higher vibration.  

And stay positive. Imagine this solar light moving out from your heart to all of humanity. Radiate into the world the energy you most want to see manifest. This is where our true power lies when external situations appear to be beyond our control.  


FOUR WEEKS AND COUNTING: 
My "Paradigm Shift" webinar will air live on November 19!
(See announcement below.)

Here are a couple of notes:   
If you're not able to attend at air time, no worries!
The class will be recorded. Everyone who registers will receive links to the replay and slideshow, usually within 24 hours of the event.  
Once you register, keep an eye on your inbox. You will receive a confirmation email from "orders@eventbrite.com," and then instructions from "noreply@eventbrite.com." If you don't see your confirmation email shortly after registering, remember to check your spam/junk folder and promotions tab.


  ("If Your Birthday Is This Week" follows the class announcement.)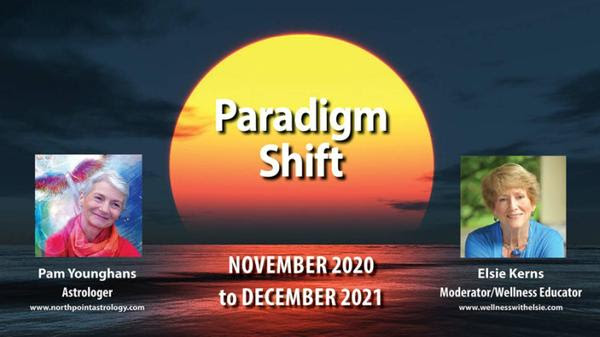 WEBINAR ANNOUNCEMENT Paradigm Shift
A new dawn on the horizon
Thursday, November 19, 2020
Broadcasting LIVE on Zoom
Recorded for Replay 4 pm PST | 5 pm MST | 6 pm CST | 7 pm EST
One-hour class, $25 by PayPal or check To Register: https://pamparadigmshift.eventbrite.com  

THE YEAR 2020 has been, by far, one of the most life-changing and disruptive years in our lifetimes, driven by the Saturn-Pluto alignment that occurred back in January. As we enter the closing weeks of this incredible year, we look to the planets to see what they can reveal about our next steps.  

On the not-so-distant horizon is a very new energy: the much-anticipated Jupiter-Saturn alignment in Aquarius, which will perfect on Solstice Day, December 21. Although Jupiter and Saturn align every 20 years, this is the first alignment in Aquarius since the year 1405. It represents a significant paradigm shift for humanity, as well as a major impulse of energy into each of our individual lives.  

In this class, we'll talk in greater detail about that Jupiter-Saturn alignment and consider its effects, both globally and personally. We'll also look beyond the immediate horizon and into 2021. We'll explore the possible manifestations and purposes of the Saturn-Uranus square that will be our companion throughout the new year, as well as the ongoing effects of the dynamic Pluto-Eris square that has already stirred much social change. To round out our overview, we'll also touch on the impact of the six eclipses – half of which are powerful Total Eclipses – that will occur from now through the end of 2021.  

Please join us! To register: https://pamparadigmshift.eventbrite.com. If you have any questions about registering, please contact Elsie Kerns at elsie@wellnesswithelsie.com.

IF YOUR BIRTHDAY IS THIS WEEK: This year, you will be ready for change in ways that you may find surprising. A restlessness that is hard to contain leads you into new experiences. You may be feeling quite rebellious, especially in response to feeling controlled by circumstances or manipulated by others. This year represents an opportunity to discover new truths about yourself, to know what you really want and value. Others may see you as being selfish, due to this focus on your personal fulfillment and self-care needs. Situations compel you to decide what it means to be authentically yourself. (Solar Return Sun quincunx Chiron, opposite Uranus)

In Gratitude and Light, Pam  

NorthPoint Journal © 2020 Pam Younghans. All Rights Reserved.



 

About the NorthPoint Journal  

Astrologer Pam Younghans writes this NorthPoint Journal based on planetary influences and insights received. Her hope is to offer perspectives to assist you in utilizing current energies to enhance your life experience and accelerate your spiritual and personal growth.   Feel free to share this issue of the NorthPoint Journal with others who may enjoy it! When doing so, please forward it in its entirety, including all contact and copyright information.  


To learn more about private astrology sessions, please visit the "Personal Readings" page at www.northpointastrology.com. 


To schedule a reading, please email pam@northpointastrology.com.   NorthPoint Journal copyright 2020 Pam Younghans. All Rights Reserved.
NorthPoint Astrology, 15000 Block 75th, Kenmore, WA 98028, USA